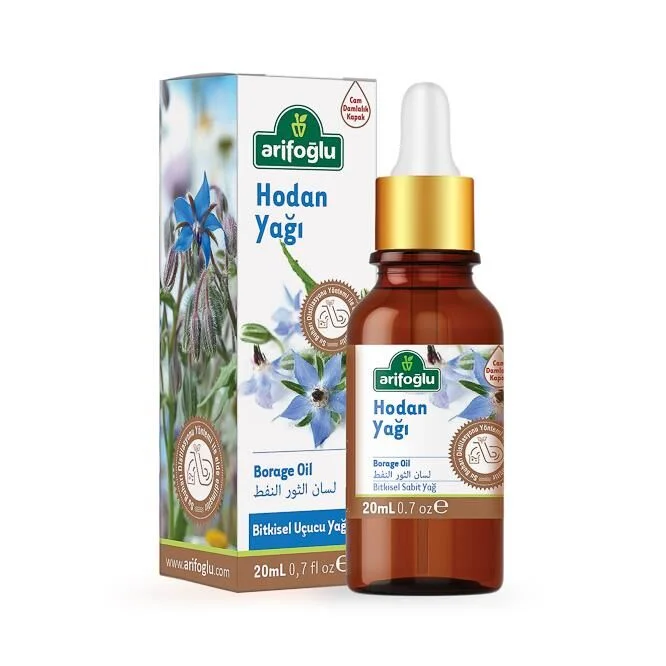 WHAT IS BORAGE OIL?
The main chemical components of Borage Carrier Oil are Oleic Acid, Phytosterol, Linoleic Acid, Gamma Linolenic Acid, and Tocopherols.
USE AS BODY OIL
Borage oil is widely used in many forms of cosmetics, including facial oils, face serums, massage oils, and even body balms.
For a soothing body balm formulation, melt a teaspoon of olive oil cream, a tablespoon of borage oil, 2 tablespoons of Coconut Oil, and 1/2 – 1 tablespoon of Grated Beeswax in a double boiler. After the mixture boils, pour the mixture into an airtight container and let it cool.
Borage Oil is widely used in the manufacture of skin care products and by massage therapists. The oil is used to moisturize the skin. It acts as an anti-aging oil that moisturizes the skin. Massage therapists use oil to relieve stress, relax the body and mind, and soothe tense muscles.
When a small amount (10% or less) of borage oil is added to other carrier oils, borage oil supports and increases the potential of the skin care product it is mixed with.
You can make a relaxing massage oil by mixing 1 tablespoon of Jojoba Oil, 1 tablespoon of Sweet Almond Oil, ½ tablespoon of Olive Oil, and ½ tablespoon of Borage Oil.
For a nice refreshing facial serum mix, mix ¼ tablespoons Rosehip Oil, 2 tablespoons Jojoba Carrier Oil, ¼ tablespoon Borage Oil, 8 drops Lavender Oil, and 1 drop Ylang Ylang Oil.
BORAGE CARRIER OIL GUIDE
Botanical Name:

Borago officinalis
Extraction Method:

Obtained from borage plant by distillation method.
Used part:

Above Ground
Uses:

It reduces inflammation, moisturizes and heals dry skin, prevents hair loss, relieves aching joints, and works to heal hormonal imbalance.
Borage Oil is used externally as a non-drinkable massage oil.
Caution:

Not recommended for use during pregnancy.