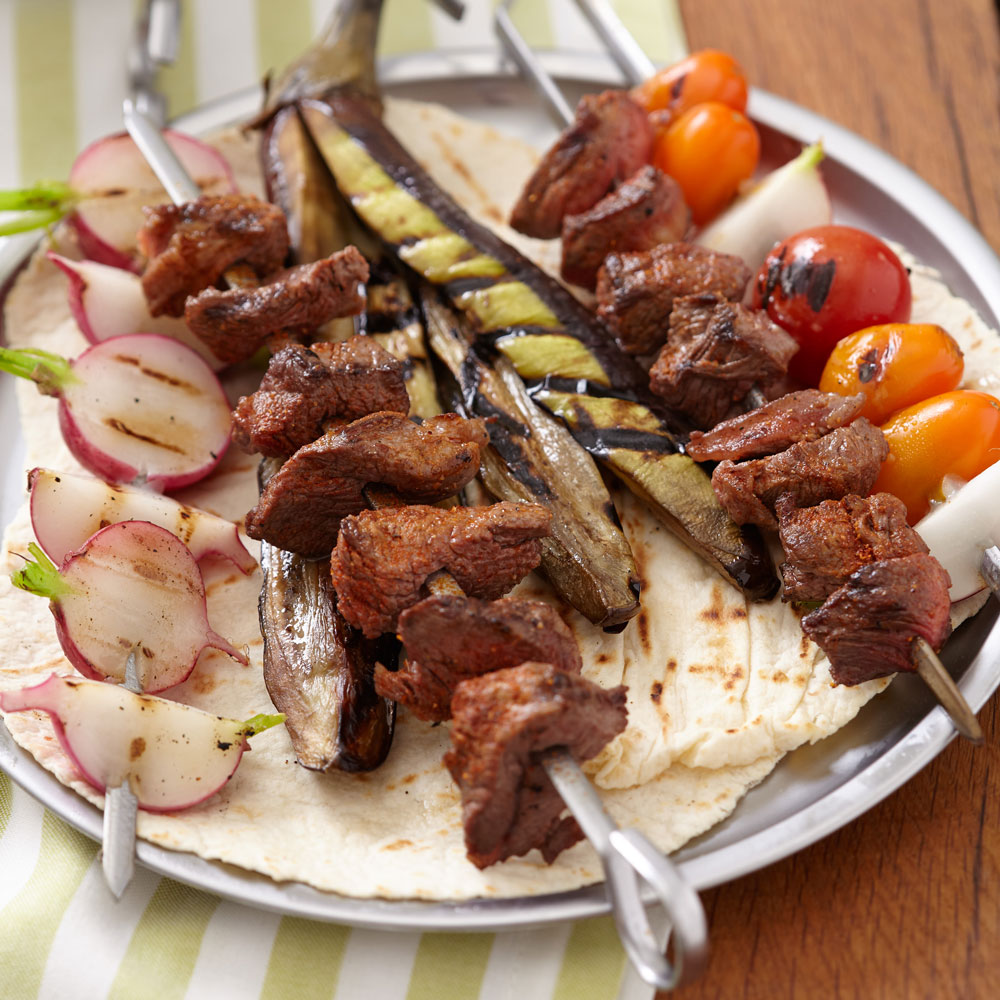 Lamb Shish with Fajita

for 4 people

Materials:

600-700 grams of lamb, cubed

1-2 tablespoons of Arifoğlu Seasoning Fajita

1 glass of milk (1 tablespoon of Arifoğlu Olive Oil increases the flavor)

10 medium-sized hazelnut radish

10-12 cherry tomatoes

4 eggplants

8-10 mini tortillas

A pinch of Arifoğlu Cumin

A pinch of Arifoğlu Black Pepper

For tzatziki with purslane:

300-400 grams of strained yogurt

6-7 branches of purslane

1 cucumber, grated

Arifoğlu Secrets of Flavor Series Garlic Yogurt Spice

Arifoğlu Table Grinding Salt

1-2 teaspoons of extra virgin olive oil

Preparation of:

Add Arifoğlu Sesonig Fajita spice to the milk and mix. Add this mixture to the meat you cut into cubes and mix. Cover and marinate in the refrigerator for 1 hour. Meanwhile, prepare the cacık. For this, add purslane, grated cucumber, which you have cleaned and separated in chunks, into strained yogurt. After mixing, add Arifoğlu Sofrada Salt and Arifoğlu Garlic Yogurt Spices according to your taste. Your cacık is ready, you can cover it and keep it in the refrigerator until you serve it. Soak the eggplants for half an hour in water with added salt in Arifoğlu Table Grinding, so that they do not peel off the variegated and completely break off the stem. Arrange lamb skewers on grilled skewers. Cut the radishes into quarters or halves and arrange the grilled skewers in the same way. Arrange the cherry tomatoes whole in the grilled bottle. Turn the eggplants on the grill and fry them on all sides. Grill vegetables and meat in the same way. After frying the eggplant, sprinkle it with Arifoğlu Ground Grinding Salt, Arifoğlu Cumin, and Arifoğlu Black Pepper to sweeten it. Lightly heat the tortillas on the grill and transfer them to the serving plate. Place the vegetables and meat you grill on it. Serve immediately with tzatziki with purslane on the side.