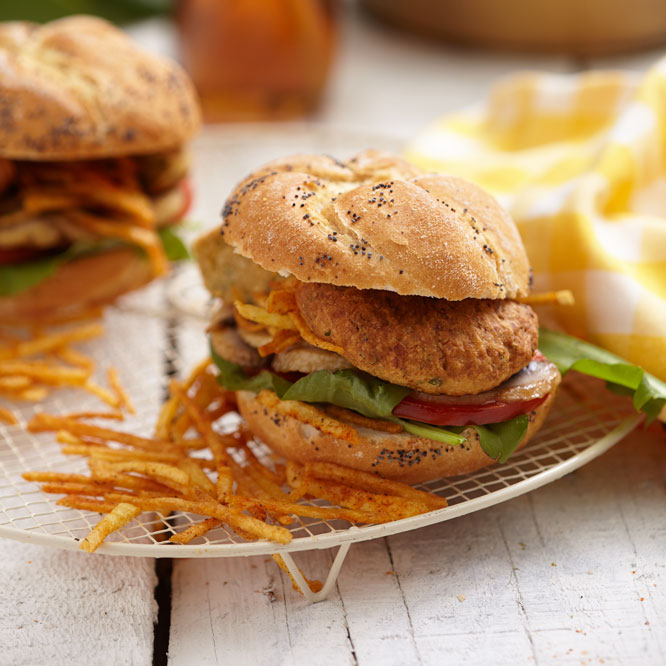 Cajun Spicy Chickpea Meatballs Hamburger
Cajun Spicy Chickpea Meatballs Hamburger

for 2 person

Materials:

1 cup boiled chickpeas

4-5 sprigs of dill, chopped

4-5 sprigs of parsley, chopped

1 tablespoon of tahini

1 teaspoon Arifoglu Cajun

2 tablespoons of breadcrumbs

1 teaspoon of Arifoğlu Cumin

1 teaspoon Arifoğlu Turmeric

1 small onion, grated

1 medium potato

1 teaspoon Arifoğlu Cajun (for potatoes)

Oil for frying

sandwich bread

few leaves of sorrel

sliced ​​tomatoes



Preparation of:

Take the well-boiled chickpeas and tahini into the kneading bowl. Grind it well. Add chopped greens, salt, grated onion, and Arifoğlu spices. Knead well.

Make 4 small pieces or 2 large pieces from the dough you kneaded. After rolling it in your palm, fry it in a pan with a little oil and cook it.

Peel the skin of the potatoes. Cut it into matchsticks and drop it into ice water. After waiting for 10 minutes, drain the water and dry it thoroughly with a paper towel. Sprinkle salt on it and mix.

Take 1 teaspoon of oil in the pan. When the oil is hot, fry the potatoes. After frying, sprinkle Arifoğlu Cajun on it and mix. Place the meatballs, sorrel leaves, and sliced ​​tomatoes between a small hamburger or sandwich buns. Serve without delay.

Enjoy your meal.